Please note:
Some services have been placed on hold due to Covid-19 precautions. We appreciate your patience and understanding.
We are only offering the following services at this time:
30 and 60 minute Massage
30 and 60 minute Foot Reflexology
30 and 60 minute Reiki
60 minute Oasis Foot Soak for One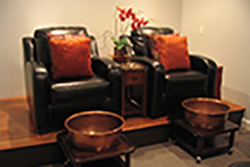 60-Minute Oasis!
Herbal Foot Soak,
plus Foot & Lower Leg Massage,
plus Scalp, Neck & Shoulder Massage
Escape day-to-day demands with a new experience at Face Body Spirit!
Whether you just want to pamper your feet or enjoy an alternative to a full massage, the 60-Minute Oasis will relax you and provide therapeutic benefits similar to massage.
Custom Blends that Provide Therapeutic Results
Soak your feet in a kettle of warm water with a blissful mix of essential oils, sea salts, & medicinal herbs to:
Soothe and Restore
Increase Metabolism or Circulation
Eliminate Toxins
Reduce Fatigue, Soreness, or Muscle Tension
Sit back, unplug, relax, and "nurture yourself"
Come alone or with a friend or partner
Perfect for Athletes, Waitstaff, Nurses too!
26 bones, 11 muscles, & 7000 nerve endings need your attention!
60-Minute Oasis: $85
(includes 30-minute massage)
60-Minute Oasis for Two: $170
(includes two 30-minute massages)
Massage and Skincare Packages

For that special day, congratulations, or birthday surprise, we'll create a custom package (any combination of services for the Face, Body, or Spirit) in the form of a gift certificate…all wrapped up with a bow!
Package possibilities include:
The Combo
Enjoy 1 hour of Face + 1 hour of Body = 2 hours of Spirit in the same visit!
$185
The Outdoorsman
Restore what the elements take away with 1 hour of nourishing skin and hand care, plus a 1-hour massage!
$185
60-Minute Oasis
Soak your feet in a kettle of warm water with a blissful mix of essential oils, sea salts, & medicinal herbs to: 1) soothe and restore; 2) increase metabolism or circulation; 3) eliminate toxins; and 4) reduce fatigue, soreness, or muscle tension
60-Minute Oasis: $85
(includes 30-minute massage)
60-Minute Oasis for Two: $170
(includes two 30-minute massages)
Nurturing the Mother
Indulge in a 1-hour massage for expectant moms as well as a 1-hour facial to nurture hormonal skin.
$185
Teen TLC
Teach your teen to properly care for his or her skin with a 50-minute facial and de-stress with a 50-minute massage!
$165
Bridal Beauty & Relaxation
Soothing 1-hour massage & rejuvenating 50-minute facial for the bride-to-be.
$185
Prices are subject to change
"Your new service, the 60-minute Oasis, is a wonderful addition to Face Body Spirit! I like the concentrated attention to one, maybe two, body parts, with that part especially being my feet. What a soothing, relaxing, and enjoyable experience it was. I left the appointment feeling rejuvenated and pampered. The chairs are so comfortable, the lighting so soothing, and your work on my head and feet so generous. I spent an hour completely transported! Thank you so much!"
       — Judy McCann