Please note:
Some services have been placed on hold due to Covid-19 precautions. We appreciate your patience and understanding.
We are only offering the following services at this time:
30 and 60 minute Massage
30 and 60 minute Foot Reflexology
30 and 60 minute Reiki
60 minute Oasis Foot Soak for One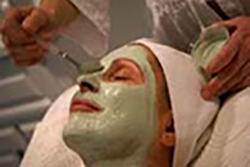 At Face Body Spirit, we welcome the opportunity to partner with you providing assistance in the overwhelming world of skincare. Many of our long-term clients at Face Body Spirit understand that their interests come first and can trust our effective recommendations and treatments. Our facials are performed only using carefully selected products offering results either with our organic options or using the industry's most comprehensive technology today. We can superbly treat your skin, respecting where you are today, and whatever philosophy or lifestyle you bring to us.
Signature Facial
Pure ingredients. Pure results. Customized to suit all skin types and ages. This facial restores your skin to optimum health. Upon evaluation, we formulate an approach to effectively address current concerns we see, as well as the traditional European fundamentals: deep pore cleansing, exfoliation, manual extractions (when needed), hydration enhancement, eye treatment, face/shoulder/scalp massage, and finishing mask. This effectively tackles daily concerns such as lack of radiance, breakouts, fine lines, and environmental damage.
50 Min.-$95
90 Min.-$120
120 Min.-$150
Age Defense — experienced skin
Specialized, custom blended facials offering corrective care for conditions developed over time. This re-surfacing facial rapidly removes dead skin cells and counteracts the effects of age. Includes acupressure facial massage as well as an eye treatment for a more awake, well rested you!
60 Min.-$125
Sacred Skincare — for sensitive skin
Whether your skin is sensitive, sensitized, suffering from rosacea, or just fragile, we are experienced and comfortable working with the most reactive skin. In fact, many of our long-term clients will not travel elsewhere for skincare, knowing they are in safe hands here. Although our Signature Facial is suitable for sensitive skin types, this facial is geared towards calming while gently enhancing your complexion and reducing redness.
50 Min.: $95
Gentle Facial
Help! Facial
Whether your skin is undergoing sudden changes, or break-outs are nothing new to you, we are here to help correct problematic skin of any age. Together we'll create an effective treatment plan to gain control and bring a more even complexion back. We will carefully review home care and health history and make recommendations accordingly.
50 Min. Facial: $80
25 Min. Followup: $50
Note: we respectfully support existing medical and holistic programs you may currently be participating in, and we can direct you to local medical/naturopathic care if necessary.
Youth Skincare
Teach the young person in your life great habits to last a lifetime, while having fun, too! Learn tricks to help keep breakouts to a minimum and learn how to prevent future ones.
45 Min.-$65
Hair Removal
Just as we customize all treatments, our hair removal services cater to your skin's sensitivity level to achieve your desired results. We use only the finest quality products and equipment, and pride ourselves on a hygienic environment. Services are performed with the ultimate goals of minimal discomfort and excellent results.
Brow Shaping: $20
Face (lip, brow, chin): $35
Lip/Chin: $15
Eye Enhancements
The secrets of the soul are expressed in your eyes, so we pay special attention to making the most of them. Services include brow design, maintenance and shaping, as well as eyelash and brow tinting (vegetable dye).
Eyebrow Shaping: $20
Eyelash Tint: $35 ($25 with facial)
Eyebrow Tint/Lightening: $15
Eyelash plus Brow Tint: $40
If you wear contact lenses please remove prior to appointment.
Massage and Skincare Packages

For that special day, congratulations, or birthday surprise, we'll create a custom package (any combination of services for the Face, Body, or Spirit) in the form of a gift certificate…all wrapped up with a bow!
Package possibilities include:
The Combo
Enjoy 1 hour of Face + 1 hour of Body = 2 hours of Spirit in the same visit!
$185
The Outdoorsman
Restore what the elements take away with 1 hour of nourishing skin and hand care, plus a 1-hour massage!
$185
60-Minute Oasis
Soak your feet in a kettle of warm water with a blissful mix of essential oils, sea salts, & medicinal herbs to: 1) soothe and restore; 2) increase metabolism or circulation; 3) eliminate toxins; and 4) reduce fatigue, soreness, or muscle tension
60-Minute Oasis: $85
(includes 30-minute massage)
60-Minute Oasis for Two: $170
(includes two 30-minute massages)
Nurturing the Mother
Indulge in a 1-hour massage for expectant moms as well as a 1-hour facial to nurture hormonal skin.
$185
Teen TLC
Teach your teen to properly care for his or her skin with a 50-minute facial and de-stress with a 50-minute massage!
$165
Bridal Beauty & Relaxation
Soothing 1-hour massage & rejuvenating 50-minute facial for the bride-to-be.
$185
Prices are subject to change
Cleanse, Restore, and
Reveal Your Radiance
When it comes to skincare, many clients are overwhelmed by the sheer number of choices. We've simplified this process by structuring a facial and skincare menu that can be custom-mapped to your unique needs and schedule.
Through attuned assessment and consultation, we determine the treatment that best suits your skin's demands today, while maintaining a vision for ongoing wellness.
We will Provide You with Valuable Info for Your Own Skincare Regimen

We are always happy to share product information with you, and yet we believe that you are here to have an experience, not a lecture! Sit back, relax, and allow us to customize your facial treatment based on what we see, what we hear from you, and what will realistically complement your lifestyle.