Welcome!
Your safety and well-being remain my highest priority!  Even though restrictions have lifted, I continue to adhere to "safe" massage therapy guidelines and will continue to wear a mask during our services.
Book your appointment by calling me at (603) 436-0900 or email your request to [email protected].
Hours of Operation
By Appointment Only
Monday
Noon-4:00 p.m.

Tuesday/Wednesday/Thursday
10:00 a.m.-7:00 pm.

A Place to Nurture the Self
Restore and Revitalize Yourself with Our Professional Massage Services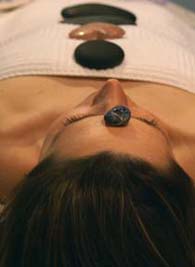 You are a multi-dimensional person.  Our massage services are designed to treat your Face, care for your Body and indulge your Spirit.
Face Body Spirit in Portsmouth, New Hampshire, is a holistic retreat offering expert therapeutic massage, and a collection of wellness services for discerning men and women. We provide the highest quality of care within a relaxed, supportive environment.
Through a collaboration of highly skilled professionals with unique talents and expertise, Face Body Spirit is dedicated to honoring and serving your individual needs.
Massage
Choose from a wide range of massage services, including: Swedish Therapeutic, Deep Tissue, Hot Stone, Lymphatic Drainage, Prenatal, Cancer Recovery, Aromatherapy, and more. Or let us create a wellness plan together that will help improve your overall health and well-being.
Reflexology
Reflexology services are customized to your particular concerns. Whether you add reflexology to your massage service or choose to do a full 45-minute or 60-minute reflexology service, we will focus on your particular needs, whether it's stress reduction, relaxation, or relieving pain or discomfort from an injury or illness.

Aromatherapy
Enhance your service with an aromatherapy add-on. Choose from a variety of options based on your desired goals.
For Men
Face Body Spirit services for men center around helping to alleviate muscle tension and stress and deal with concerns unique to men.
Whether you join us for an occasional treatment or commit to an ongoing series of care, the mission of Face Body Spirit massage services is to help you achieve a state of balance and harmony that strengthens, relaxes, and nurtures your inner and outer self.
What's New? Reflexology!

Reflexology uses ancient techniques and diagrams from traditional Chinese medicine. It is based on the principles that there are reflexes in the feet that relate to every organ, gland, or part of the body. By applying pressure to these points, reflexology is an effective tool to promote wellness and has proven to increase circulation.
While we no longer offer skincare or couples services, we are excited to add foot reflexology services as a stand-alone 45-minute or 60-minute service, a combo special, or an add-on to any massage service.
"One small step, one small act will create a ripple. You may not always see its effect from the middle of the pond, but it's there.  Drop some love, some laughter, or some kindness into the water and see what happens…"