Please note:
Some services have been placed on hold due to Covid-19 precautions. We appreciate your patience and understanding.
We are only offering the following services at this time:
30 and 60 minute Massage
30 and 60 minute Foot Reflexology
30 and 60 minute Reiki
60 minute Oasis Foot Soak for One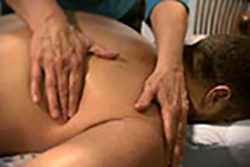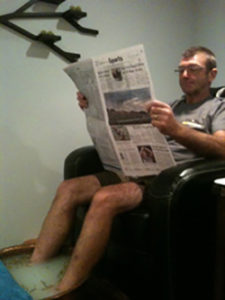 Join the fastest growing population in the spa industry. Although most of our treatments on our service menu are for both male and female clients, we thought we'd list our men's favorites…
Massage Therapy Services For Men

Stress Buster
Combining rhythmic strokes to increase muscle tone and flexibility, this relaxing technique aids the elimination of toxins and the assimilation of nutrients throughout the body. It is a preliminary technique for deeper tissue massage. Swedish Therapeutic Massage encourages better sleep patterns and prevents fatigue—its effects are cumulative when enjoyed on a regular basis.
30 Min.-$50    60 Min.-$90    90 Min.-$120
Deep Tissue
Working with the central nervous system, this structured process of ligament, tendon and deep muscle manipulation helps re-pattern muscles that have assumed improper positioning. It is particularly effective in aiding the removal of toxins that accumulate in the muscles, limit movement, and cause pain. Deep tissue work also provides wonderful relief from tension headaches.
30 Min.-$50    60 Min.-$90    90 Min.-$120
Foot Soak—60-Minute Oasis
Herbal Foot Soak,
Foot & Lower Leg Massage,
plus Scalp, Neck & Shoulder Massage
Soak your feet in a kettle of warm water with a blissful mix of essential oils, sea salts, and medicinal herbs to:
Soothe and Restore
Increase Metabolism or Circulation
Eliminate Toxins
Reduce Fatigue, Soreness, or Muscle Tension
Sit back, unplug, relax, and "nurture yourself." Come alone or with a friend or partner. Perfect for Athletes, Waitstaff, Nurses too!
60-Minute Oasis: $85
(includes 30-minute massage)
60-Minute Oasis for Two: $170
(includes two 30-minute massages)
Dry Brushing/Swedish Combination
Dry Brushing/Swedish Combination Start with a dry brushing session to stimulate the lymphatic system, followed by a brisk Swedish massage to awaken a sluggish metabolism, and ending with aromatherapy infused hot compresses to calm and rejuvenate the central nervous system. Includes a complimentary brush for home!
60 Min.-$90
Hot Stone
The original hot stone massage takes you on a journey, using sculpting and detoxifying approaches to release and comfort tight, sore muscles. Smooth, warm basalt and cool marble stones may be alternated to encourage circulation. LaStone Therapy goes beyond the physical experience of typical massage and enters deeper dimensions of relaxation, health, and well-being.
90 Min.-$140
Just the Back
This back-neck-shoulders only treatment relaxes and rejuvenates, including: warm compresses, gentle cleansing, natural sea salt exfoliation, and deep tissue massage.
60 Min.-$90
Skincare Services For Men

The Masculine Facial
Designed for the specific needs of a man's skin. A gentle exfoliant cleanses and helps balance oil production, prevent razor burn and decongest dull clogged skin. Aromatic towels and a massage of shoulders, arms and hands relieves tension and quiets the mind. We recommend NOT to shave the day of your treatment.
50 Min.-$95
The Power Peel
Softens fine lines and helps keep pores clear. This treatment is wonderful especially for the gentleman who has spent lots of time out in the sun/elements or challenged by ingrown hairs. We recommend NOT to shave the day of your treatment and to refrain from heavy sun exposure for several days afterward.
30 Min.-$50
Hair Removal — Waxing
Waxing is a temporary solution to remove unwanted hair.
Eyebrows-$15
Combination Package — The Outdoorsman
Restore what the elements take away with one hour of nourishing skin and hand care, plus a one-hour massage!
2 hours—$185
Prices are subject to change
Massage and Skincare Packages

For that special day, congratulations, or birthday surprise, we'll create a custom package (any combination of services for the Face, Body, or Spirit) in the form of a gift certificate…all wrapped up with a bow!
Package possibilities include:
The Combo
Enjoy 1 hour of Face + 1 hour of Body = 2 hours of Spirit in the same visit!
$185
The Outdoorsman
Restore what the elements take away with 1 hour of nourishing skin and hand care, plus a 1-hour massage!
$185
60-Minute Oasis
Soak your feet in a kettle of warm water with a blissful mix of essential oils, sea salts, & medicinal herbs to: 1) soothe and restore; 2) increase metabolism or circulation; 3) eliminate toxins; and 4) reduce fatigue, soreness, or muscle tension
60-Minute Oasis: $85
(includes 30-minute massage)
60-Minute Oasis for Two: $170
(includes two 30-minute massages)
Nurturing the Mother
Indulge in a 1-hour massage for expectant moms as well as a 1-hour facial to nurture hormonal skin.
$185
Teen TLC
Teach your teen to properly care for his or her skin with a 50-minute facial and de-stress with a 50-minute massage!
$165
Bridal Beauty & Relaxation
Soothing 1-hour massage & rejuvenating 50-minute facial for the bride-to-be.
$185
Prices are subject to change
Combination Package
The Outdoorsman
Restore what the elements take away with one hour of nourishing skin and hand care, plus a one-hour massage!
2 hours—$185