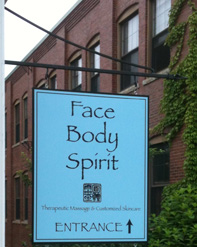 Face Body Spirit
875 Islington Street
Portsmouth, New Hampshire 03801
(603) 436-0900
info@facebodyspirit.net
 
Hours of Operation
Closed Sundays



Directions
For Mapquest Directions CLICK HERE
For Google Directions CLICK HERE.
Use the Contact Form Below to
Add Your Name to Our Email List
or Send Us a Message

Stay in touch and learn about new services, special packages and discounts, and special events.
With your personal needs and goals in mind, we choose and present the very best services and products, allowing you to relax and truly enjoy your treatment.
To ensure your ease, you will experience your renewal in peaceful and private surroundings.